United States Air Force Academy, 2016
United States Air Force Academy, 2015
United States Air Force Academy, 2017
Sir,
I ran into you yesterday outside of computer repair and was asked if I could send you my thoughts on the computer repair men. I just wanted to say that the men that work in the repair area have always been amazing. Every time I have a problem with my computer I know I can go to them for help. I don't know a lot about technology and they are always willing to help. They are always so nice, helpful, and quick when it comes to fixing my computer.
Thank you for your time and consideration in this matter.
Very respectfully,
//SIGNED//
Cadet Second Class Peyton M. Cottingham
Cadet Squadron 05, 'Wolfpack'
United States Air Force Academy, 2018"
United States Air Force Academy, 2015
Sir,
I want to extend my appreciation for you and your staff at the Cadet Computer Repair office in Fairchild Hall. I damaged a few keys on my laptop in my rush to prepare for yesterday's safety inspection and Saturday's SAMI, and this morning I brought my laptop for advice for its repair. The gentlemen in the office were very informative, professional, and exceptionally polite when they helped me with my problem. I felt that I was taken care of.
Thank you very much for the work that Cadet Computer Repair does to support us.
Very respectfully,
C3C Stephen R. Larson
A-3 Element NCO, Character Clerk, PEER
Cadet Squadron 24 'Phantoms'
United States Air Force Academy"
United States Air Force Academy, 1992
United States Air Force Academy, 1992
Fort Carson, 1994
The City of Colorado Springs, 1990
District #49 Horizon Middle School, 1991
Nova Typography, 1990
District #49 Falcon High School, 1992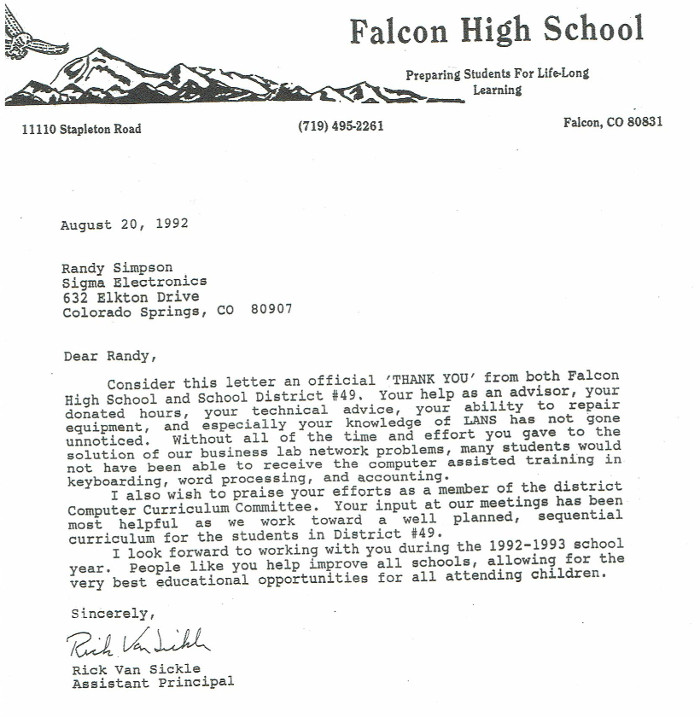 Community Corrections of the Pikes Peak Region, 1990
Welch Equipment Company, 1990
Datatech, 1990
MicroAge Computer Stores, 1989